Istanbul is one of the most populated cities in the world and the biggest city in Turkey. A great center for commerce and an important historical center where Romans, Ottomans and many other civilizations lived.
Visiting Turkey as a globe traveler would surely bring you to Istanbul. Spending many days according to your taste you will be wondering what the rest of the country is like.
One of the best known location for a side day trip from Istanbul is Ephesus. The very best way to get there is by plane that will take you to Izmir. Otherwise the bus trip takes about 10 hours or driving distance is about 7 hours (I can drive you in 5 hours if you are brave enough 🙂 ..). There are many airlines that will fly to Izmir Airport from Istanbul airports. Depending on the time of the year the prices may change.
From Izmir to Ephesus
After you land in Izmir Airport you can find many Rent a Car options at the airport. If you wish to take public transportation there are busses that runs to the City Center (Konak area) and there you can take another bus or a taxi to the main bus station to find yourself a bus that goes to the town of Selcuk where ancient Ephesus is located. This option might take about 3 hours. From there you might need to walk or use taxi between the places of interest. Or you basically rent a taxi from the airport to take you to Ephesus, which might be an expensive option.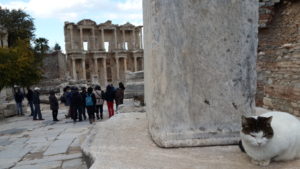 If you are coming for a tour around Turkey and willing to end it with a visit to the Greek Islands there are many different locations that you can take the ferry.
Kusadasi to Samos
Bodrum to Cos and Rhodes
Marmaris to Rhodes
Ayvalık to Lesbos
Kaş to Megisti
The ferry companies are Turkish and Greek. The morning ferries to the Greek Islands are operated by Turkish companies and they are not going on strike any time of the year 🙂 . They will depart for the islands around 8 am and will arrive back from the island late in the afternoon around 5-6 pm. Same schedule applies for the Greek companies as well.
It is better to purchase the tickets locally at the towns from the companies because the ferries will only run weather permitting. You can still book online at your own chance.
For more information please check this site or just simply send me an email 🙂
It is great to see both sides of the Aegean to appreciate it more...
Happy Travels